War in Yemen
August 8, 2021
2021-08-08 8:32
War in Yemen
War in Yemen
"Blessed are the Peacemakers"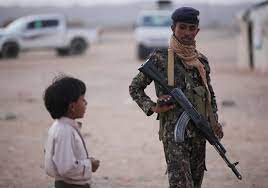 Recent Developments
The Saudi-led coalition has continued to wage its campaign against Iranian-backed Houthi rebels, resulting in heavy civilian casualties. In June 2018, the coalition launched a major offensive to retake the coastal region of Hodeida, further worsening the humanitarian crisis. The United Nations, which appointed a new special envoy for Yemen in 2018, has attempted to broker a cease-fire.
The Houthis have responded to Saudi airstrikes with missile attacks on Saudi Arabian infrastructure and territory, including oil tankers and facilities and international airports. Further complicating the civil war, secessionist groups in Yemen's south, supported by the United Arab Emirates, have clashed with the UN-recognized government forces based in Aden. 
Background
Yemen's civil war began in 2014 when Houthi insurgents—Shiite rebels with links to Iran and a history of rising up against the Sunni government—took control of Yemen's capital and largest city, Sana'a, demanding lower fuel prices and a new government. Following failed negotiations, the rebels seized the presidential palace in January 2015, leading President Abd Rabbu Mansour Hadi and his government to resign. Beginning in March 2015, a coalition of Gulf states led by Saudi Arabia launched a campaign of economic isolation and air strikes against the Houthi insurgents, with U.S. logistical and intelligence support. 
Hadi rescinded his resignation and returned to Aden in September 2015, and fighting has continued since. A UN effort to broker peace talks between allied Houthi rebels and the internationally recognized Yemeni government stalled in the summer of 2016. As of December 2017, Hadi has reportedly been residing in exile in Saudi Arabia. 
In July 2016, the Houthis and the government of former President Ali Abdullah Saleh, ousted in 2011 after nearly thirty years in power, announced the formation of a "political council" to govern Sana'a and much of northern Yemen. However, in December 2017, Saleh broke with the Houthis and called for his followers to take up arms against them. Saleh was killed and his forces defeated within two days. 
The intervention of regional powers in Yemen's conflict, including Iran and Gulf states led by Saudi Arabia, threatens to draw the country into the broader Sunni-Shia divide. Numerous Iranian weapons shipments to Houthi rebels have been intercepted in the Gulf of Aden by a Saudi naval blockade in place since April 2015. In response, Iran has dispatched its own naval convoy, which further risks military escalation between the two countries.
Meanwhile, the conflict continues to take a heavy toll on Yemeni civilians, making Yemen the world's worst humanitarian crisis. The UN estimates that the civilian casualty toll has exceeded 15,000 killed or injured. Twenty-two million Yemenis remain in need of assistance, eight million are at risk of famine, and a cholera outbreak has affected over one million people. All sides of the conflict are reported to have violated human rights and international humanitarian law.
Separate from the ongoing civil war, the United States continues counterterrorism operations in Yemen, relying mainly on airstrikes to target al-Qaeda in the Arabian Peninsula (AQAP) and militants associated with the self-proclaimed Islamic State. In 2016, the United States conducted an estimated 35 strikes in Yemen; in 2017, it conducted about 130. In April 2016, the United States deployed a small team of forces to advise and assist Saudi-led troops to retake territory from AQAP. In January 2017, a U.S. Special Operations Forces raid in central Yemen killed one U.S. service member, several suspected AQAP-affiliated fighters, and an unknown number of Yemeni civilians. 
Concerns
The United States is deeply invested in combating terrorism and violent extremism in Yemen, having collaborated with the Yemeni government on counterterrorism since the bombing of the USS Cole in 2000. Since 2002, the United States has carried out over two hundred strikes in Yemen. While Houthi rebels do not pose a direct threat to the United States, their attacks on Saudi Arabian infrastructure and territory threaten an important U.S. partner. 
News Background
---
IN OTHER NEWS
Countries & Areas